Driver Education students are required by state regulations to complete thirty (30) hours of classroom instruction, six (6) hours of behind-the-wheel observation and instruction, and one-hundred eighty (180) hours of adult/parent observation time. Students must pass test with at least 80% grade. Students do not need an Instructional Permit to take the Driver Education course. Upon completion of the Driver Education course, the certificate is valid for one (1) year.
Safety is our biggest concern. Adults of any age are able to take the Driver Education course. *CHILDREN WANTING TO TAKE THE COURSE MUST BE 14 BY THE DATE GIVEN FOR EACH COURSE*
Individuals on the Waiting List will receive notice regarding upcoming courses prior to the general public and will have 1 week to register before registration is open to the public. Those wanting to be added to our Waiting List can click here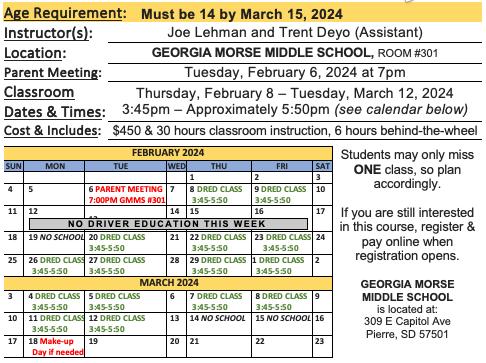 Please watch Capital City Campus' Facebook Page for announcements.
Classroom Instruction (30 hours) & Behind-the-Wheel Training (6 hours)
Driver Education is a non-credit class offered here in Pierre, approximately four to six (4-6) times per year. Our goal is to coach students to learn and retain the necessary skills to drive safely and take all steps possible to avoid any form of roadway trouble in the future.
PLEASE NOTE: The Driver Education courses are not affiliated with any school district; however, some instructors of the course are teachers in the community. The Driver Education Certificate of Completion is valid for one year from the date of signature to waive testing at the exam station. A student must be 14 years of age to obtain their Instruction Permit and the start time for the 180-day requirement of the Graduated Licensing System, (Typically 275-days), will begin once a student has received their permit, after completion of Driver Education.